It is important to keep your Android phone clean and optimized. If not you will experience delay in app openings, slow touch responses due to loss of performance, battery draining issues, loss of storage space and more. Clean Master app offers many tools to optimize your Android phone in all occasions. You will see tools like phone Boost, Junk cleaner, CPU Cooler, Notification cleaner and more within the app. Here we are mostly focused on how to deep clean your Android phone storage to get free storage space.
Most Android phones receive messages like "not enough storage space" when you try to install apps, games or when capturing a photo. You have to remove your photos, videos or currently using apps and game to get more storage. It is so hard to decide which app or media file to remove in order to get more storage space. Clean Master app is developed to provide assistance on such instances. You can use Advance Cleaning feature of Clean Master app to free storage space by keeping all your important photos, videos, apps and games.
Advance Cleaning Android phone storage
You can use junk cleaning feature to remove basic junk removal on your Android phone storage. You can remove more files on your storage space with Advance cleaning feature of Clean Master app. There are many apps, games and files that cannot be automatically deleted without human intervention.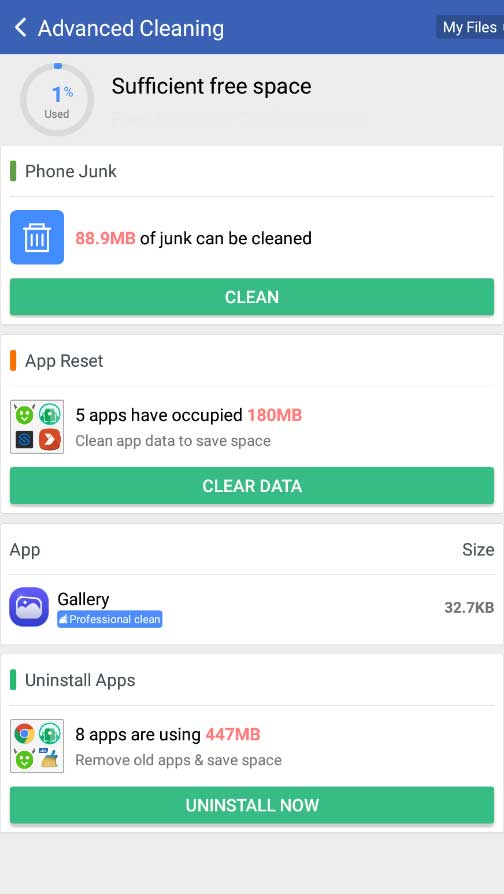 Advance cleaning feature of this app analyze phone storage space and shows details report on below sections.
Phone Junk
App Reset
Gallery
Uninstall Apps
Big Files
Apk Files
Residual Files
Phone Junks – Phone junks include cache files, Temporary files created by apps and games, log files and more. Phone junks section shows amount of storage space occupied by junks.
App Reset – There are apps and games that you use rarely and does not want to uninstall. Some of those apps may have large storage space used for its data. Data is created when you are using those apps. This report shows list of apps and games with its app data size. Easily select and remove App data or reset apps you want.
Gallery – Gallery section analyze all your photos and videos based on file size. Easily find large video files and unwanted images with gallery cleaning. You can backup and delete large video files and images. Use this feature to decide which photos and videos you are going to delete.
Uninstalled Apps – Uninstall app section shows all your installed apps and games. This section shows the app name, installed date and size. That make it easier to find apps and games that occupy large portion of the phone storage. Based on the installed date, you can decide it is unwanted app or not.
Big Files – Big files section scan for larger files on your phone storage. Most people use Bluetooth, Wi-Fi direct, Messaging apps or other sharing methods to share files. There may be large files on your phone storage that you forgotten. Backup and delete those files.
Apk Files – Many used to install apps and games outside the play store. As result, apk files get accumulated on download folder. You have to manually delete those downloaded apk files. This section shows all available apk files that can be deleted to get more space.
Residual Files – Uninstalling apps does not remove all related files. Most apps and games keep its data, licensing information, etc. after uninstalling. You can use this feature to find all those residual files from uninstalled apps to get more storage.