Phone internal memory or storage space is where you keep data like apps, music, photos and etc. Internal memory also includes the Android Operating system. People so confused about the internal memory and memory. Internal memory refers to storage and memory refers to RAM where you run apps and Android system. If you have 32GB internal storage you wan't get full 32 GB free space to use. Some Gigabytes has been taken by Android OS and stock apps. With time your storage space runs out due to apps, games, photos, videos, junk files, cache and many more. Sometimes you may see message like below
Storage Space Running Out
Some system functions may not work
That means you have to clear phone internal storage space by deleting apps, games or media content. But you may see that uninstalling apps and deleting videos wan't get much storage as you expected. It is because there are lots of junk and cache files.
How to free Phone Internal Memory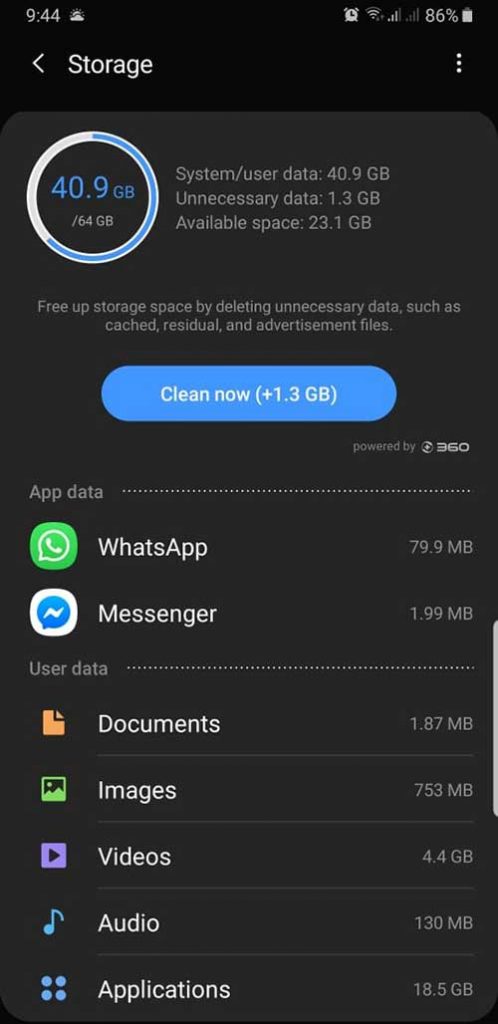 Cleaning or free some storage space on your phone is not a easy task. You can do that manually if you want. If not you can try clean Master apk. First I will discuss about manual or default way to clean phone storage space. If you does not get enough free storage space as you expected then you can try Clean Master.
I will not going to describe deeply about manual method. Because this method become more and more confuse. Because process of cleaning phone internal memory may differ from device to device and with Android version. Instead I will describe main and easiest storage clean option comes with Android system.
Go to phone settings
Tap Storage
– Location of storage settings will be differ with device and OS version. For many Android phones you can directly see storage settings under main settings. For Samsung click on "Device Care" and then click "storage"
Tap "Free up space"
– Inside storage settings you will see "Free up space" or "Clean now". For Samsung it is "Clean now". Name will be slightly different according to your phone.
Above process will delete all junk files, cache files, residual files and many more unwanted temporary files. You can manually select and delete documents, videos, apps and games. Inside storage settings you can see different categories like Documents, Images, Videos, Audio and Application with amount of storage used. You can go to each category and select delete anything you want in order to free your storage.
Using Clean Master APK ( recommended way)
If you want to free internal storage without any worries you can use this free tool Clean Master. Clean master available on Google Play Store. If you have Google play store just search "Clean Master". Click on first result and install that app. If not you can download apk version of this app. Click here to download Clean Master apk.
Once you done installing clean master app open it. There you can see main features or ways to clean your phone storage and boost you phone speed. They are
Clean Junk files
Phone boost
CPU Cooler
Antivirus
Battery Saver
Notification cleaner
etc
First select "Junk Files" option to remove all junk files on your phone. There are lots of unwanted and rarely used Android apps. If you don't know which apps to remove, then clean master app can help you. At the bottom of clean master app home screen you can see "App Manager" option. That option can help you to remove and manage rarely used apps. It shows last time you used those app with app size.
Apart from cleaning, this app help you to clean your phone RAM and boost your phone, Increase WiFi security and omes with antivirus tool and many more features.