Needless to say, that smartphones have become one of the most important devices in the modern world. Would not be wrong if stated that they are one of the most important, to be precise. With all of the chores we perform on a daily basis, smartphones have helped save time and effort and also made them much more convenient. With all of the apps available on the smartphone, performing any type of task or activity takes just a few clicks on your smartphone and you can get the job done!
Therefore, it is also extremely important that you take care of your device so that it performs as it should! But have you ever noticed that your device is not performing like it used to? Maybe it lags or constantly runs out of memory, or gotten really slow, or even sending you annoying notifications all the time. And would you like to solve this issue at ease? Here's allowing you to experience the best performance of your device with no hassle whatsoever with the Star Cleaner & File manager that will allow you to keep your device super clean and also well organized! The app comprises of a wide range of features that will assist you in obtaining the best version of your phone!
Features of Star Cleaner App
The app is an all in one super app that allows you to optimize your device, search and detect all of the major and large files and locate them, save battery life, clear out cache, remove apps that are not being used, clean messenger, remove all unwanted photos and others! Performing these would significantly improve the performance of your device and optimize it to perform better than it does!
The app will fix your phone in just a few seconds and the battery saver mode will allow you to save your battery life to last longer. This way, you do not have to constantly worry about charging your phone and scroll through it for longer hours. The cleaning of apps is also performed super smartly and takes off all the unnecessary files and apps that you do not use or collects cache all over your device.
It also removes all supplicate files and apps that are on your device so you can obtain more space on your device for all your important files. The Booster feature on the app will boost the performance and speed of your device so that you can experience a smooth navigation on your device at all times!
With all of these features on the app, you can now obtain a guaranteed optimizer performance of your device than never before! You can enjoy all of your favorite games or even scroll and surf the net for longer hours without your device during on you or running our of battery. Experience the best and smoothest functionality of your device for absolutely free and conveniently with Star Cleaner & File Manager app installed on your android device right now!
Install Star Cleaner on Android
This is a free Android junk cleaner and optimizing application available on Google play store. You will see plenty of Android cleaners like Clean master, NOX Cleaner, AVG Cleaner, CCleaner, etc. You will be able to use your default app store to download any of those cleaners except Clean Master App.
First open Google play store application. Swipe down on the home screen to load apps and type of the search bar to find play store app. Go to search when you open play store. Type "star cleaner" You will see this application on search results.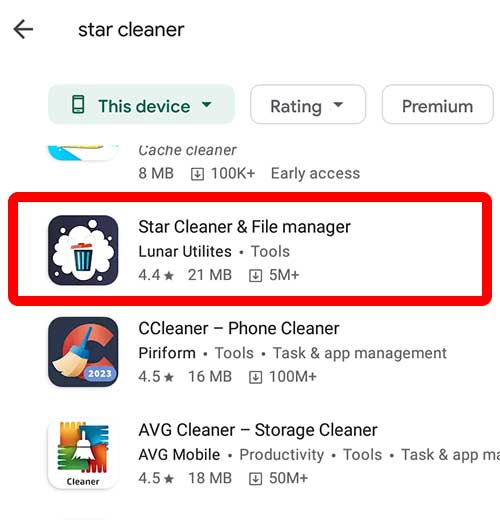 Select and install.