Safe browsing or safe web browser introduced by Clean Master. It is also called as CM safe browsing. You will get this private Android web browser application with the full featured clean master app.
The importance of internet security in today's digital age cannot be overstated, as cybercrime continues to rise, and personal information is constantly under threat. One way to safeguard yourself online is by using a reliable and safe browsing tool. Clean Master Safe Browsing is a popular app that can assist you in browsing the internet safely. This article discusses the app's features, how it can help you stay safe online, and what it is all about.
What is CM Safe Browsing?
Clean Master Safe Browsing is a web browser app that provides a safe and secure internet browsing experience. This web browser can detects and block malicious websites, phishing attempts, and other online threats. Provide options to automatically delete all your browsing history, cache, and cookies, which can potentially compromise your privacy.
Features of Clean Master Safe Browsing
Below listed only few features of this Android web browser application. You can install this application to experience all those features for free.
Private Bookmarks: You can create password protected list of bookmarks. No one cannot access this list of bookmarks even after unlocking the phone because of extra layer of protection.
No Image Mode: You can use this mode if your internet connection is very slow and want load websites fast. Some low-end and old Android phones struggle to load heavy websites due to poor performance. You can reduce website load with no image mode to load website quickly and faster. This will be extremely useful if you want to load news websites quickly to read.
Request Desktop: All most all modern websites offer different layout for mobile devices. You can use this option to see full desktop version of that website.
Clean browser history: This browser can automatically delete all your browser history. You can set timer to clean all data on exiting the browser. Supported time interval are 1,3 and 10 minutes after exit.
Set default search engine: You can set default search engine to use for your search terms. Supported search engines types are Google, Baidu, Yahoo, Bing, Yandex, DuckDuckGO.
Text size: Most people find it hard to read on mobile phones. Use text size option and change text size until you can read sentences comfortably.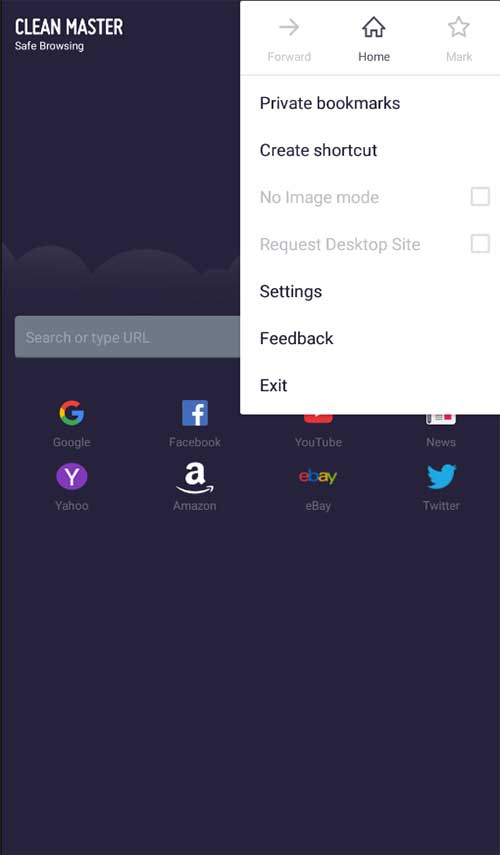 How to use CM Safe Browsing
First download and install full featured Clean Master application. CM lite does not offer this web browser application. Open Clean Master app and scroll till you see "safe browsing". Select it.
Now you will see familiar web browser interface. Do safe web searches and load websites with this web browser application. Go settings and select "create shortcut" to create desktop shortcut. No need to use clean master app to open safe web browser application, instead use desktop shortcut just created.
Conclusion
In summary, Clean Master Safe Browsing is a robust app that can help you stay safe online. Its advanced technology provides protection against malware, phishing attempts, and other online threats. If you're concerned about online security, Clean Master Safe Browsing is an app worth exploring.