Clean Master, a popular optimization and cleaning app for Android devices, offers a range of features to enhance the performance and functionality of Android phones and tablets. One of the standout features of Clean Master apk is its File Manager tool. With the File Manager, users can easily navigate and manage their files to create organized storage space. In this article we will discuss deeply about File Manager tool of Clean Master app. Click here for all available tools and features of clean master app.
File Manager of CM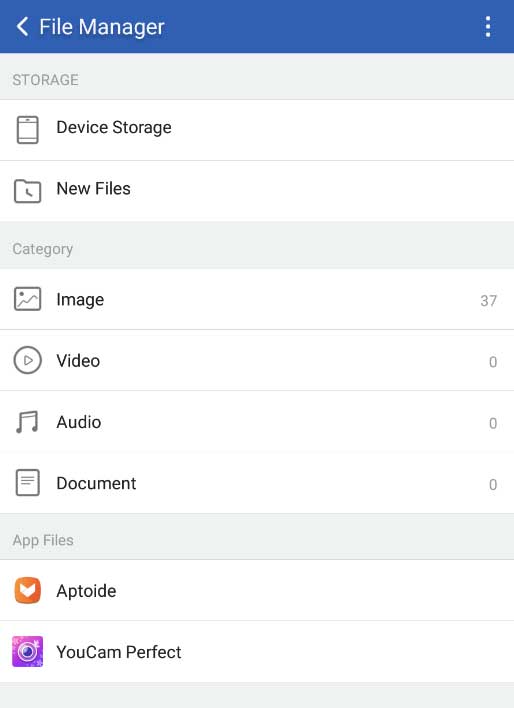 File Manager of CM consist of 3 sections as "Storage", "Category" and "App Files". Below described section with features and functions.
Storage
Storage section has two categories as "Device Storage" and "New Files".
The Device Storage section in Clean Master's File Manager provides users with a comprehensive view of the files stored on their Android device. It allows users to browse through their files, delete unnecessary ones, and share important documents or media files. However, it is important to note that unlike many other file manager apps, Clean Master's File Manager does not provide the option to create folders, move files, or rename items. Nevertheless, it still serves as a handy tool for quickly accessing and managing files on your device.
New Files section of Clean Master's File Manager presents users with a categorized view of the newly added files on their Android device. These files are classified into four categories: All, Media, Documents, Bluetooth, and Others. This categorization allows users to quickly locate and access recently downloaded files based on their type. Whether you are looking for a recently received document or a media file received via Bluetooth, the New Files section simplifies the process of finding and accessing these files.
Category
This section offers a more specialized view of the files on your Android device. This section is further divided into four categories: Image, Video, Audio, and Document. By selecting a specific category, users can quickly access all the files falling under that category. For instance, if you're looking for a particular image, you can navigate to the Image category and easily locate it among your collection of pictures. This categorization ensures efficient file management and a streamlined user experience.
App Files
The App Files section of Clean Master's File Manager provides users with a comprehensive overview of the installed apps on their device. In addition to listing the apps, this section also displays their related files, such as downloaded media files and other documents associated with those apps. This feature enables users to quickly identify and manage the files associated with specific applications or games. Whether you want to delete unnecessary files to free up storage space or locate a specific document within an app, the App Files section offers a convenient solution.
In conclusion, Clean Master's File Manager tool is a valuable addition to the app's optimization and cleaning features. Its various sections, namely Storage, New Files, Category, and App Files, offer users comprehensive file management capabilities. From browsing and deleting files to accessing recently added or categorized files, Clean Master's File Manager simplifies the process of managing and organizing files on your Android device. While it may lack certain advanced functionalities found in other file manager apps, its user-friendly interface and integrated features make it a practical tool for everyday file management needs.