There are lots of cleaning tools or cleaning utilities for windows. Clean Master is the best free PC cleaner for Windows. Clean Master support Windows Xp, Windows 7, Windows 8, and Windows 10. Normally your PC storage will run out of space or storage with time. It is because lots of files get accumulated on your partitions including heavy media files like movies, unused apps, junk files, cache files and more. You can boost or speed up your PC for free using Clean Master app too.
Many people out there use their computers to surf internet. They do not do much using their computers. With time huge cache files get accumulated. For example browsers like chrome, Internet explorer, Firefox store cache files to load websites faster. Among all of those browsers chrome stores the highest cache may be several Gigabytes in size. You can get free space by cleaning those unwanted files. You can easily remove those files using this app. No need to find cache file location. Just open Clean master windows app and click junk files. There you can see what kind of files going to be clean.
Free Clean your PC for more storage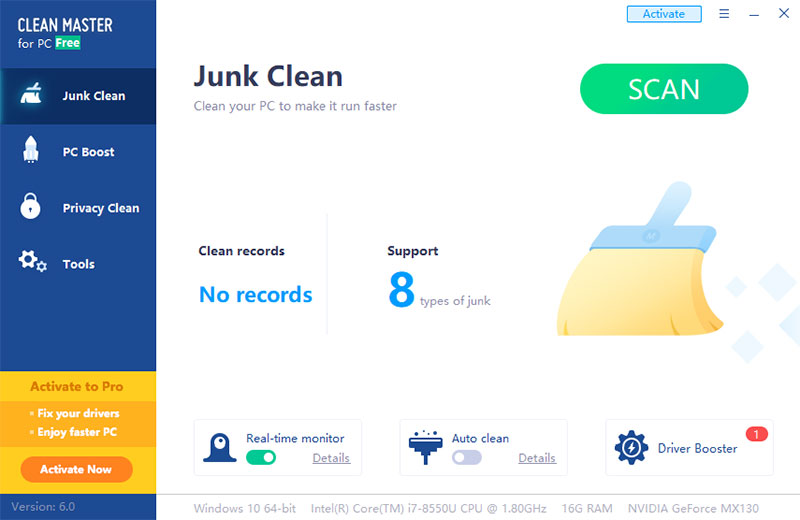 Easily clean out any unwanted files created after windows updates. For example, clean Windows 10 files after windows 11 update to have more storage space. Clean all residual files that are no longer used easily with Clean Master PC app. Get more storage space on C: partition with one click.
Cleaning includes removing unwanted junk files, cache files, games, media and many more. You can even remove unused apps and games to gain free storage space. Cleaning those files one by one and finding them are not a easy task. So you can easily use free tools out there like Clean Master for Windows. Below describes types of junk files you may find on windows. When you open Clean Master app and go to "junk clean" section you can see below listed categories and what kind of files are there to clean under each category.
Clean windows
There are lots of files or junk files created by windows too. When you delete a file on your computer those files does not completely remove from your system permanently. Instead they stored under "Recycle Bin". In order completely remove files from PC you have to clean Recycle bin. It was done in order to protect accidental deletion of files. If you delete a file accidentally you can restore using recycle bin.
System Cache are other types of cache files created by windows operating system. System cache includes:
Backup cache
Thumbnail cache
Font cache
Certificate cache
Windows installer temporary cache
System icon cache
Remote desktop cache
Explorer search cache
Manifest cache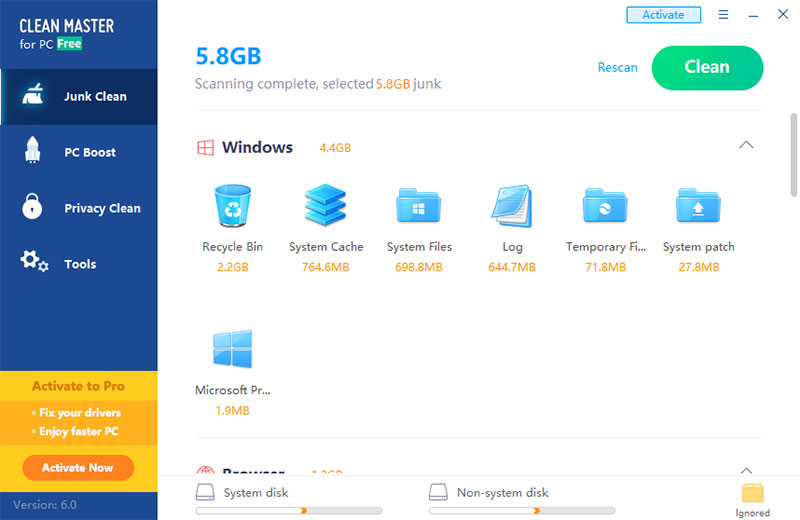 Apart from above cache files there are lot more others. For example windows products like .Net , Live Mail, Silverlight and many more create cache files. Clean Master will list all those cache files. So all you have to do is to press "Clean" button to get rid of all those unwanted cache files.
Not only System cache there are unwanted system files too. Those system files too created for specific tasks inside windows. Those system files too become junk after that. You can clean those unwanted system files to gain some free storage. System files includes
Precompiled files
System diagnostic files
Old system backup files
Disk file fragmentation
Software temporary installation files and more
Many apps create log files. Log files are used to find software errors, how app was used and many more. With time there are lots of log files stored inside your computer. Some of the log files are intel log, System Error report and etc. You can easily delete those. There are temporary files apart from cache and system files. For example user, system and application temporary files.
Clean web browsers
Browsers always create cache and those cache grow in size. Normally browsers cache includes:
Update cache
Logs
Crash logs
Old versions cache
Residual files
cleaning those browser caches may free some Gigabytes based on how often you use internet. Normally chrome stores the highest cache.
Clean Windows Software Cache
Each and every software run in your Windows PC create cache and temporary files. Those are in few megabytes. But when it comes to many software, size may be large. Inside Software category of junk files you can see size of cache created by each and every software. Media players too create cache files. Those cache files include those media players to work faster. If you encounter errors on some media players, cleaning cache will fix those errors. Check "Multimedia" section under junk files.
Other types are games. If you play games and has many games installed on your system then there is high chance of having cache and temporary files.
Remove windows Malwares
Clean Master has the ability to scan your windows PC for malware. If you have good Antivirus software you will see malware category is empty or very clean message. If not you can clean those malware using this software too. Malware cleaning tool comes free with Clean master.
Download Clean master for PC
Free download and install effect Windows 8, 8.1, 10 and Windows 11 files cleaner. Remove all duplicates, residuals from windows updates, removed apps and more with Clean master PC.