Another fantastic cleaner app for your Android. APUS Turbo Cleaner. Just like Clean master, CCleaner, NOX Cleaner, AVG Cleaner this also acts nicely in cleaning the Android well.
This is an app developed mainly for cleaning all the junk files from the Android. Also, it acts as a powerful Antivirus tool also. This has higher ratings among other cleaner apps suggesting you also should try this nice tool. This is free. so, ads supported. Sometimes these ads are very annoying too. But still worth to try.
To be honest the app is super easy to use. It has a very simple interface. Very quick in acting too. Just a matter of one or two seconds to optimize and clean Android.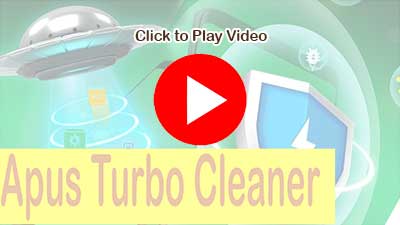 Features of APUS Turbo Cleaner
There are key functions performing by the app. I can list them as below.
Cleaning all the junks
Freeing up the space
Antivirus capability
Protecting your privacy
Optimizing the device
Notifications and call managing
Junk clean
Within few seconds this scans your Android and find all the junk files normally referred to as useless files in the Android. All the junk files generating by the apps like web browsers, social media apps we use frequently cannot hide from this powerful junk scanner. This finds and recommends you to delete all the junk files. This whole process takes only few seconds and about two clicks. Very easy to operate the app.
Freeing storage space
The app acts in a nice manner in freeing your RAM. Just tap on the icon free RAM then it completes the cation within few seconds allowing you to download the favorite files without any space troubles.
Antivirus
The app is best known for its Antivirus functionality. This detects and block all the harmful files trying to attack you. As well scan the device for the malwares, trojans, spyware and delete them permanently by securing you.
Protecting your privacy
The App lock feature included in the app lets you to secure your private data in certain apps by using an AppLocker. This can be a patter, password or a pin. No one will get opportunity to invade your private territory thanks to this app.
You can secure all your private messages from your social media apps easily using this app. If you have the app with you then your privacy protection is guaranteed.
Optimizing the device
This optimizes the performances of the Android in every aspect. Cleaning, saving battery, cooling CPU, hibernating unwanted apps like all most all the functions of the app lead to optimize your device.
Notification and call manager
Using this option you can stop the annoying notifications and spam calls.
Download Apus Turbo Cleaner App
There are many Android Cleaners like Clean Master, NOX Cleaner, AVG Cleaner, Phone Master, etc. From them Apus Turbo Cleaner is popular among many Android lovers. You can easily download and install this application using Google play store. Click below download link using your Android phone.
| | |
| --- | --- |
| Version: | 1.2.5 |
| Ratings: | 4.7 stars |
| Downloads | 1 Million plus |
| Size: | 28.5 MB |