In this article we are mainly focused on Antivirus feature of Clean Master app. There are many features on this Android cleaner app. It is important to know about each and every feature of this app before using. Most Android cleaners add basic antivirus features instead of full featured security features like this app.
There are many advantages of having a built in Antivirus to cleaner app. Cleaner app will run on background utilization phone resources like CPU and RAM. If you want antivirus protection, that antivirus app too run on background checking any potential threats. As a result your phone may lose performance and storage space for two apps. Having this feature on one application helps to save phone storage space and resource utilization.
Android Antivirus app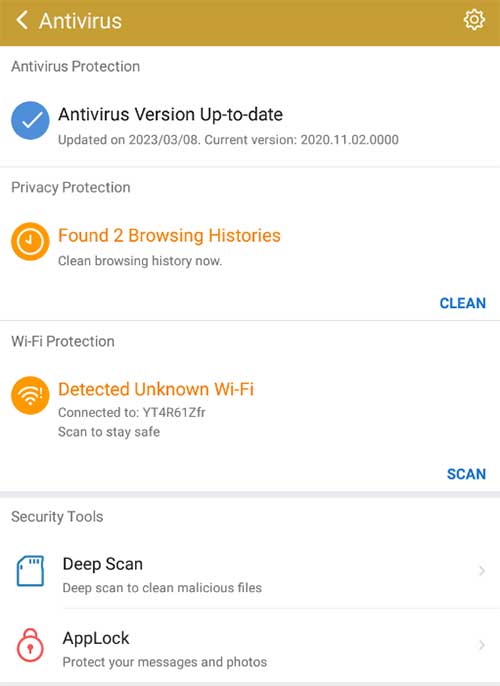 First download and install Clean Master app. You will see Antivirus button on the home screen of Clean Master app. Below list some of the security scans done by this app.
System vulnerabilities
This will scan your Android system for vulnerabilities. It checks your Android OS version and updates for any risks. Main task is to find any security flaws or weakness in the Android operating system. Those security flaws can be used by an attacker to gain unauthorized access to data, resources, or services on an Android device. It is important to check system vulnerabilities first.
Fake ID exploits
This security issue is called "Fake ID". This security flaw allows a malicious app to fake or forge its identity, bypassing the security checks that are meant to prevent unauthorized access to sensitive data or resources on an Android device.
Malicious Apps and Viruses
Malicious apps and viruses on your Android phone can cause lots of problems. Stealing personal information, access to sensitive media files, photos, videos, access to contacts, showing unwanted ads and more. Most malicious apps may act as legitimate apps or from trusted sources. This will find and remove all the identified malicious apps and viruses from your Android phone.
Suspicious updates
Some apps and games push unwanted or harmful updates. Those updates may include excessive amount ad showing or data sharing. This feature can monitor for any suspicious updates and take actions to stop them.
Private info
This feature is designed to protect the privacy of the user's personal information on their Android device. This antivirus app helps to prevent unauthorized access to the user's personal data, such as contacts, messages, photos, and other sensitive information.
Those the main areas that Antivirus on Clean master app provide. Those protection is more that enough to keep your Android device safe from intruders, malwares and viruses.